Digital Alert Viewer Paging (DAVp)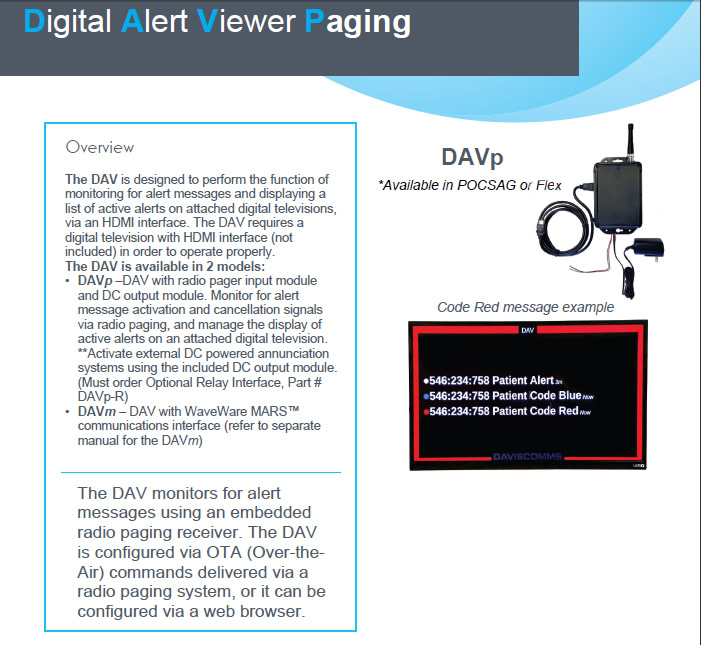 Specifications
The DAVp includes the following components in a single enclosure:
Raspberry Pi 3 computer with Linux operating system.
Daviscomms TMR telemetry messaging receiver with external antenna and status LED.
DC output module to allow switching of a DC load on priority message detection.
5VDC AC/DC universal switching power adapter.
Ethernet connection.
HDMI connection for digital television control (HDMI cable not included).
DAVp enclosure dimensions are 6″ tall x 4.5″ wide x 2″ deep, not counting antenna, flanges or attachments.
** Optional Relay Interface, Order Part# DAVp-R
For more information of DAVm, please check  Mobile Alert Response System (MARS).
Ordering Requirements
To order a DAVp, you need to specify POCSAG or FLEX paging protocol, operating frequency and capcodes.
For the POCSAG version, you need to also specify RF data rate.
** Optional Relay Interface, Order Part# DAVp-R
Please call [T: +44 (0) 1908 36 7722] or Email [sales@daviscommsuk.com] for more information.
Download