EaziTRAC 100 – Child Tracking System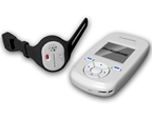 EaziTRAC 100 enhances the lives of parents by allowing them to give their children greater freedom to wander freely in a safe manner and with a peace of mind. Parents can monitor and find their wandering children easily with EaziTRAC 100.
Features:
Switch between monitor and find modes at the touch of a button.
Hand held base unit can find a wandering child up to a distance of 400 m range (Line of Sight).
Variable distance control allows you to set your comfort zone for each child.
Waterproof, lockable wrist tag, includes a panic button for extra reassurance.
Anytime anywhere, without costly subscription fee.
Can be used indoors or outdoors, home or abroad.
Ideal for theme parks, shopping centers, on the beach, in and around the home or garden.
Downloads: